March 3, 2017 10:30 PM - 2:00 AM
GET YOUR BOOGIE SHOES ON THE NORTH 2 SOUTH BAND PLAYS AT 10PM!
 NORTH 2 SOUTH:
CYNTHIA LUCAS: Lead vocals, keyboards, songwriter, executive producer
FRANK J. LAROSA: Vocals, guitar, keyboards, recording engineer/producer, songwriter
ADAM PACE: Drums, background vocals
Award winning vocalist and lyricist, CYNTHIA LUCAS got her start singing and playing in local variety bands in the Tampa Bay area and after meeting (and marrying) multi-instrumentalist/vocalist and recording engineer FRANK J. LAROSA, who'd worked in some of the best studios in Los Angeles, they decided to pool their collective talents as a songwriting team and founded NORTH 2 SOUTH.
Their music spans a broad scale in styles via collections of songs that are geared toward their own artist CD's, as well as songs written with commercial, television and movie soundtracks in mind. NORTH 2 SOUTH's song MOVING ON recently reached #1 on MusicTampaBay radio. They, along with their long-time drummer, ADAM PACE, who has previously worked with local acts Sequel and Jeremy Thomas Band, play regularly on large and small venue stages in and around Tampa Bay showcasing a variety of music, both cover and original.
CYNTHIA LUCAS is also an Amazon Best Selling Author of four novels in time travel and paranormal romance. Her first novel, When Lightning Strikes, reached #1 in Time Travel Romance (Kindle edition) and all four of her books have been Top 10, Top 20 and Top 100 Kindle Best Sellers in their genres. She has been nominated for two RONE Awards for excellence in writing and was a quarter finalist in the 2013 Amazon Breakthrough Novel Awards.
Published: http://www.north2southonline.com/bio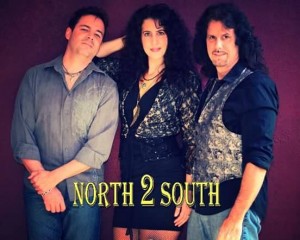 Save
Save
Save