Performer
Funk Circle Band
May 8, 2021
6:30 PM / 10:00 PM
Venue
Safety Harbor Resort and Spa
---
105 North Bayshore Drive, Safety Harbor, FL 34695
888-237-8772
Funk Circle Band at Safety Harbor Resort & Spa Safety Harbor FL! Funk Circle Band (One of Tampa Bay's best dance bands playing everything from Earth Wind and Fire to Bruno Mars!) at Safety Harbor Resort & Spa! Join the party!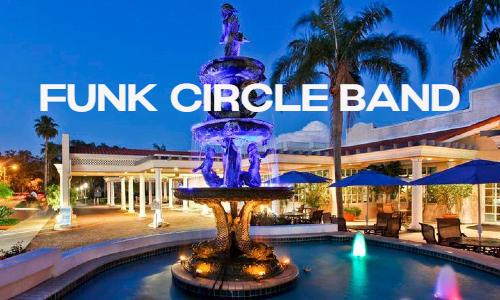 Safety Harbor Resort and Spa
So much more than a standard hotel or resort, Safety Harbor Resort & Spa is quite simply, spectacular! Classic and charming, pampering and luxurious, we offer guests timeless elegance and personalized service. Our breathtaking resort and spa features all the amenities you would expect from an Old-World resort overlooking the glistening waterfront of Tampa Bay. Our rich history, affordable luxury and endearing character combine to provide a setting that is positively paradise.
105 North Bayshore Drive
34695
US
reservations@safetyharborresort.com
Phone: 888-237-8772
Originally published: https://www.safetyharborspa.com/