Starts in
---
October 4, 2023
7:00 PM / 11:00 PM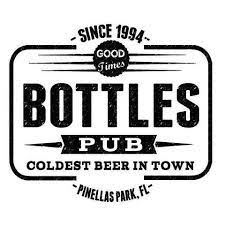 Open Jam Night at Bottles Pub 5619 Park Blvd, Pinellas Park, FL 33781 with Beach Bum Barry 7pm to 11pm.
Bottles Pub on Park Blvd in Pinellas Park is the area's finest Craft Beer Bar, with 12 craft beers on tap ranging from Florida local breweries to flavors from around the globe at just $5 a pint! Plus, we have 4 different wines on tap, 10 types of wine based alcohol, all flavors of Truly Spiked & Sparkling, and a huge selection of bottled beer. originally published: https://bottlespub.com/
Click on Image for directions!