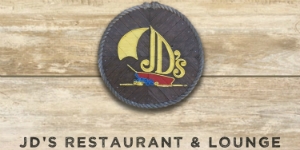 American bites & drinks are served at this casual spot with a piano bar, dance floor & live music on the patio. Experience casual dining and live entertainment.
Closed on Mondays & Tuesdays
Open WED thru SUN 11am
FRI AND SAT 11am Till ?
LIVE MUSIC EVERY DAY
On the "BACK PORCH" 1pm-5pm & 6pm-10pm
PIANO BAR:
THURS. 7-11 & FRI AND SAT 7-11
OUR BACK PORCH OFFERS SO MANY TALENTED ENTERTAINERS!!!
STOP ON BY AND HEAR YOUR FAVORITE ONE… TUE-SUN 1-5 AND 6-10
OUR BACK PORCH IS ALWAYS OPEN EVEN IF IT SNOWS….SOMEWHERE ELSE! Originally published: http://jdsrestaurant.com/schedule.html
Click Image for Events Calendar!

JD's Restaurant & Lounge
Phone: (727) 595-1320
Click Image for directions!