Click on Any Image for Calendar of Events!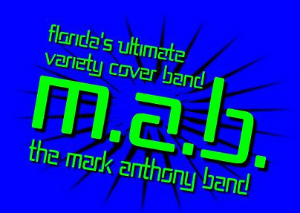 M.A.B. The Mark Anthony Band is Florida's Ultimate variety Cover Band & Best Tribute Shows IN THE U.S.!
If you haven't heard of this band, you are missing out. This one of the best-kept secrets the Tampa Bay area has in the way of bands.
Mark Anthony Band plays a great variety of rock music and has a large following of fans that will travel all around the Bay area to see them play. Having been around for over eight years, this is a real favorite in Tampa Bay. The group is hired out months in advance, so if you see it advertised at one of your local bars or clubs, be sure not to miss a live show. originally published https://tampa.cbslocal.com/top-lists/best-local-rock-bands-in-tampa-bay/
PERFORMING ALL THE SONGS FROM M.A.B. plus* ANOTHER COUPLE 100 SONGS THAT WE ONLY PERFORM AS A DUO!!
SELRES_0.723632306748501
SELRES_0.723632306748501
TRIBUTE SHOWS…
"Piano Man" (Billy Joel)
"Dark Lady" (Cher)
"Edge Of GaGa" (Lady GaGa)
"Night Moves" (Bob Seger)
"Material Girl" (Madonna)
"Keepin It Country" (Female Country)
Originally Published: http://www.markanthonyband.com/