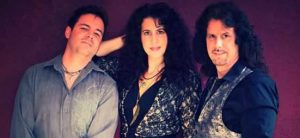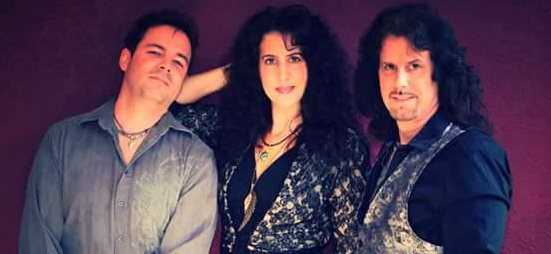 NORTH 2 SOUTH is a fun group of three friends from the IRB Largo, Florida community, who love sharing a diverse offering of both originals and music from many genres and decades, with their friends, fans and following both locally and far and wide.
​
Affectionately known to themselves as 'the little band that could', NORTH 2 SOUTH was founded in 2003, by husband and wife team,CYNTHIA LUCAS (Lead Vocals/Keyboards) and FRANK J. LAROSA (Lead Vocals/Guitar). The group has gone through a few incarnations with four and five pieces, but has happily been settled into a power trio with the talents of drummer ADAM PACE for seven years and running, playing local beach bars and restaurants and on large stages for festivals, concerts and more including the notable IRB BEACH FEST and TASTE OF IRB (both of which draw tens of thousands of attendees) and at RUTH ECKERD HALLoutdoor stage pre-concert shows, before such concerts as Hall & Oates, Earth Wind & Fire, Steely Dan, Heart, Styx, the Dukes of September, and Rock of Ages to name a few.
​
​
CYNTHIA:  Has been an award-winning and well-known vocalist  in Tampa Bay for many years, playing on stages both large and small. As lead singer for Eqinoxx back in the early 1990's, she fronted the band for TREASURE ISLAND SEAFOOD FESTIVAL and at The Cuban Club, for GUAVAWEEN, which draws tens of thousands of attendees every year. The band also played many other well-known venues of the day including the Rockit Club (opening for House of Lords), and opening for Tampa Bay powerhouse band of that era, Stranger.  During that time, she began honing her skills as a songwriter and within a few years, met, married and teamed up withFRANK.  CYNTHIA LUCAS  is also a well-known author having penned seven novels in romance genre….three of which have reached #1 Best Seller in their respective genres on Amazon. She is also an award winning graphics designer who has designed dozens of book covers for New York Times Best Selling Author Amanda Ashley/Madeline Baker among others.
FRANK: Has a long list of studio engineer and songwriter credits including  working with both Michael Sembello (Flashdance) and Danny Sembello (songwriter for many 80's and early 90's hit songs) and soundtrack credits on the late 80's early 90's hit, "Dance Til Dawn' starring Christina Applegate  and helped write the ending credits song on the well known movie 'Weekend At Bernies'. He has engineered such artists as The Temptations, Jermaine Jackson and Jermaine Stewart among others. FRANK is also an Aerospace engineer having designed many boards that go into space satellites and working in conjunction with projects via NASA and more.
NORTH 2 SOUTH:  After meeting and marrying in the early 1990's, CYNTHIA and FRANK began writing songs together and formed NORTH 2 SOUTH. They went on to be nominated for COUNTRY SONG OF THE YEAR 2004/2005 in the JPF MUSIC AWARDS (also known as The Grassroots Grammys), for their original song 'All Messed Up' which was selected from 140,000 entries as a finalist. They went on later to work with such name producers in Nashville as Mark Oliverius of OMG Productions, (musical director for The Music of Nashville), showcasing and more and headlining an all original concert at Largo Cultural Center with opening act The Blues Punks.
ADAM: After going through a few different incarnations, the band teamed up with the phenomenal talents of local drummer, ADAM PACE.  ADAM comes from a family of well-known and respected musicians, and is the son of famous Julliard trained pianist, Pat Pace. His mother, Patricia Scot is also a well-known jazz vocalist/pianist, who along with Pat, enjoyed a flourishing musical career during the 50's and 60's.  ADAM  has played on stages both large and small and never ceases to inspire with his versatility in many styles whether he's scorching it on a Meshuggah cover or laying down a rock solid Bernard Purdie shuffle on some Steely Dan. Two of his recent online videos covering ICEFISH's  'Paralyzed' and 'It Begins' were personally selected by ICEFISH to be featured on their page.  ADAM has also recently began studying classical piano in honor of his late father, and is flourishing at that as well, doing frequent classical piano recitals. He works in investment banking by day.
TODAY: NORTH 2 SOUTH is rockin' shows all over Tampa Bay, playing both covers and originals, with a wide repertoire that covers everything from current radio hits like Bruno Mars, Jessie J and DNCE, to super seventies and eighties such as Prince and Maria Carey, to classic rock favorites,  Journey, Tom Petty, Heart, Fleetwood Mac and more.  Their original music has evolved to accommodateCYNTHIA'S powerhouse vocals and FRANK'S classic guitar riffs , that are well-suited to rock. Their most recent release 'He's Really Something', is a combination of rock with a country edge, and has enjoyed rotation on WMTB Radio in Tampa Bay (both online and on their terrestrial station out of St. Petersburg) and at Radio Bar & Grll online.  NORTH 2 SOUTH has regularly enjoyed being in the Top 10 local charts on ReverbNation and has reached #1 on that chart as well.
Most of all, this band loves performing live for their friends and fans…and for YOU. We look forward to having you come out, enjoy the vibe and join our tribe!  Much love, and hope to see you very soon!
Originally published https://www.north2southonline.com/bio